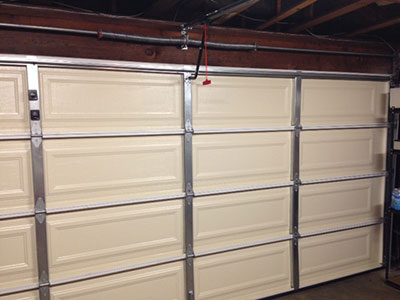 The need for garage door emergency services happens at the most unexpected times, and we understand the need for quick resolution of your problems. These services include repairs and parts replacement of anything that has to do with your door, including broken panels, seals and doorframes, rusty springs and tracks, as well damaged rollers and frayed cables. These can cause undue stress and inconvenience at the most inopportune times. No matter how simple it looks, your door is a complicated piece of equipment, being one of the biggest singly system in your household, as well as one with more moving parts than a car. When this stops working, everyone in your household is affected.
Repair Services You Can Call When You Need Them
Our experts at "Garage Door Repair Union City" are always ready for calls requesting emergency assistance. We know the need for a quick response, and we want to be there at your home or office building as soon as possible. We can work on different makes and models of garage door openers. We are experts on brands like Marantec, Sears, Liftmaster and Genie and can identify what's wrong with different parts without having to tear everything apart. We know individual quirks and how these parts and sections behave at different times.
When you give us a call, we try to diagnose the problems in order to prepare the equipment we need. We make sure that we have all that we need before we leave our premises. We also have experienced staff trained in repairing damaged doors. We make sure that we do our job according to manufacturer specifications and manuals. We also make sure that our staff is updated of the latest makes and model doors.
Garage Door Repair Union City strives to be the company that you would turn to for any of your door problems. When you have an emergency, give us a call and we can talk about how we can fix your door, and get on the way to doing the necessary repairs.