A broken garage door opener can really disrupt your family's routine. We understand this can be a big hassle. Let our garage door company assists you with your problem. We can help you if your motor stops working, a spring is broken, one of your cables has snapped, or your door has come off track. We can assist you if your opener light is blinking, your door will not open or close, or even if you need to install a new door. We can help you with all of your garage door needs. We offer garage door opener repair service that can do it all. We offer same day service to fix your problem immediately. We don't want you dealing with a malfunctioning garage door any longer than necessary. We fully stock all of our trucks, so that we can do the job in one trip. You can always count on us to get the job done.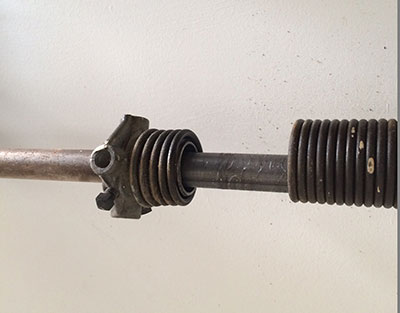 One of our best features is our emergency response service. If your garage door opens or closes without notice or stops opening or closing that is an emergency situation that we will handle. Emergencies include any issue that may result in injury or theft. For these situations we offer emergency garage door repair service.
Broken springs repair
We are trained to service all major brands including Marantec, Craftsman, Sears, Chamberlain, Genie, and Liftmaster and are experts on broken springs repair, replacement and installation of torsion springs. All garage door parts are considered significant, but the springs get a little more credit for lifting the heavy load of the door. Regardless if you have extension springs installed on the two corners above your door or a pair of torsion springs placed in the middle, they have a significant mission to fulfil, that is, to counterbalance the weight of the door and lift it.
We are highly trained to fix and replace the galvanized or oil tempered springs and we will advise you on which springs to install since the torsion springs are suitable for heavy doors and the extension springs for light ones. In any case, you must keep in mind that springs are very heavy and can snap. Therefore, you shouldn't attempt to fix them on your own; we have the proper tools and the experience to detect the damage and repair them accordingly.
Garage door replacement
Besides that, we engage on any other repair or garage door replacement and we can offer you the best service. So, don't forget to add garage door maintenance to your list of household tasks. This is a necessary part of owning a garage door that often gets overlooked. Let us tackle this chore for you. Our maintenance can prevent future damage caused by rust or wear and tear. We will clean and lubricate all moving parts to reduce any friction in your system. While we are performing your maintenance service, we will check to make sure all the pieces are in proper working order. We can help you detect damaged springs, screws, and chains. This will keep you from having to deal with unpleasant surprises. We can help you discuss all of your options so that you can budget for any necessary expenses. We are dedicated to serving you as efficiently as possible.
We only employ highly trained technicians so that you can be rest assured that our company will get the job done correctly. Our company is always a safe choice. We also promise to be a good value. Unlike other garage door repair companies, we won't overcharge you for our services. We offer fast, reliable service, because we care about providing our customers with the best service possible. We promise not to disappoint. We are pleased to serve our friends and neighbors in the Union City area.