In the past several decades, garage door openers have grown with technology. No matter what type of garage door opening system you have, at some point you may find that it's time for an upgrade.There are numerous types of door openers in to choose from, all of which are worth a look, if you are thinking about remodelling. Certainly, the top sellers of our company are the openers manufactured by Sears and Craftsman, Liftmaster and Genie and other major companies because they are durable and, thus, reliable.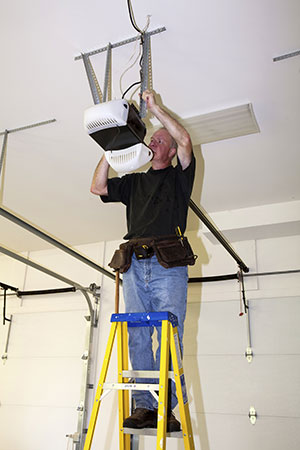 Automatic garage door openers
Openers are crucial parts of garage doors because they make sure that the door opens and closes efficiently. Once upon a time, people didn't have the convenience of opening the doors automatically and they had to lift them manually. Today, we have made ourselves the favour of adapting technology on our everyday lives. Nowadays, openers open the door with the help of the remote control or, at worst, with a switch.
Openers work either with a noisy chain drive, a not so-noisy screw drive or a silent belt drive motor. It depends if you want your silence or if you want to hear the door working from afar (in case an intruder tries to break in) and it also depends on how much money you want to pay since the prices ranging from the cheap chain drive to the most expensive belt drive.
Garage door opener-belt drive
Furthermore, chain drives are ideal for those who have garages that are located away from the home or are on a tight budget. They are inexpensive, but can be noisy due to the metal chain being dragged along the track, whenever the garage door opens or shuts. A belt drive, by contrast, is ideal for those who value silence as it is smooth and noiseless. Yet belt drive garage door openers can be problematic if you are on a budget, because they tend to be the most expensive out of the three main types.
A good happy medium for many homeowners is to choose a screw drive model. These types of openers have the least amount of separate parts that must be taken out and serviced regularly, because they have a straightforward and simple design. They make some noise, but are not as noisy as chain drives. It's possible to save money on maintenance and find a durable, long-lasting model. However, before you make any final decisions, it's always a good idea to talk to a professional about what your various options are, in terms of the existing structure of your home and garage.
Who doesn't appreciate the extraordinary capacities of modern electric garage door openers? People who value the great characteristics of door operators must also understand the importance of Genie opener repair, too. All electric opener services are vital! Openers might not actually open the garage door but enable automatic operation. They make sure the door opens and closes fully, and moves at the right speed. They integrate safety sensors, which reverse the door if someone passes under the descending door. Such features and parts must be checked, adjusted, maintained and repaired so that one's safety will be guaranteed.